WTW IOT Connect System
Our IOT Connect System enables global access to your machine data. Errors can be detected at an early stage and faults can be avoided. Your advantages: Optimum utilisation with reduced repair and maintenance expense due to continuous monitoring.
Detect and correct incorrect data
Global connection regardless of location
Mobile connection without stationary cabling
The data of the machine can be accessed worldwide via the portal.
The machine data is read and displayed in real time, and data can also be written if required.
Incorrect data can be detected and corrected at an early stage.
The link box collects the defined data from the machine and transfers it to the cloud storage via a mobile data connection.
The link box transmits the data in real time to the portal and thus direct maintenance of the machine can be carried out live.
The cyclically recorded data is stored in the cloud memory and is available for later evaluation.
All communication and data in the cloud storage can be encoded with an asymmetric key on demand. This ensures the highest level of data security according to the current state of the art.
The web portal is accessed via a standard Internet browser. All functions of the system can be operated via this. It is not necessary to install your own software.
The portal can be accessed from a Windows PC as well as from a tablet or mobile phone.
The mobile data connection is via LTE, 2G, 3G or 4G.
The link box cyclically records the position of the machine and stores the data in the cloud storage. There they can be retrieved for evaluation via the portal.
The mobile data connection is established worldwide, no matter where the machine is located. The only requirement is the presence of a mobile phone connection.
The machine connects to the cloud storage and the portal via a mobile data connection. This means that no stationary cabling is required.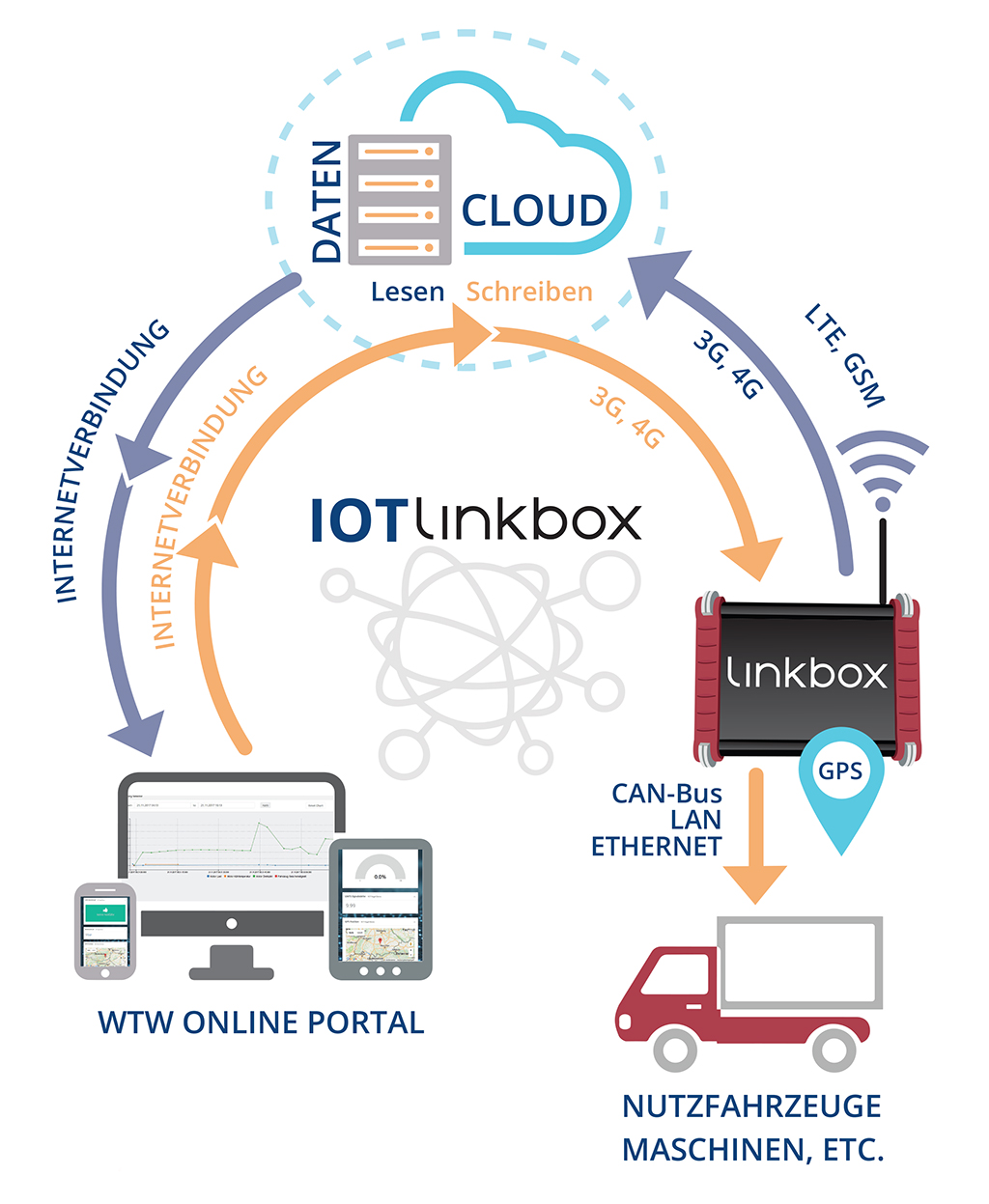 WTW IOT link box system
The WTW IOT link box system connects mobile or stationary machines via the Internet to the portal, which can be used for remote maintenance, remote monitoring and various evaluations. You receive a complete system as a one-stop shop:
WTW IOT link box
Cloud data storage
Portal for PC, tablet or smartphone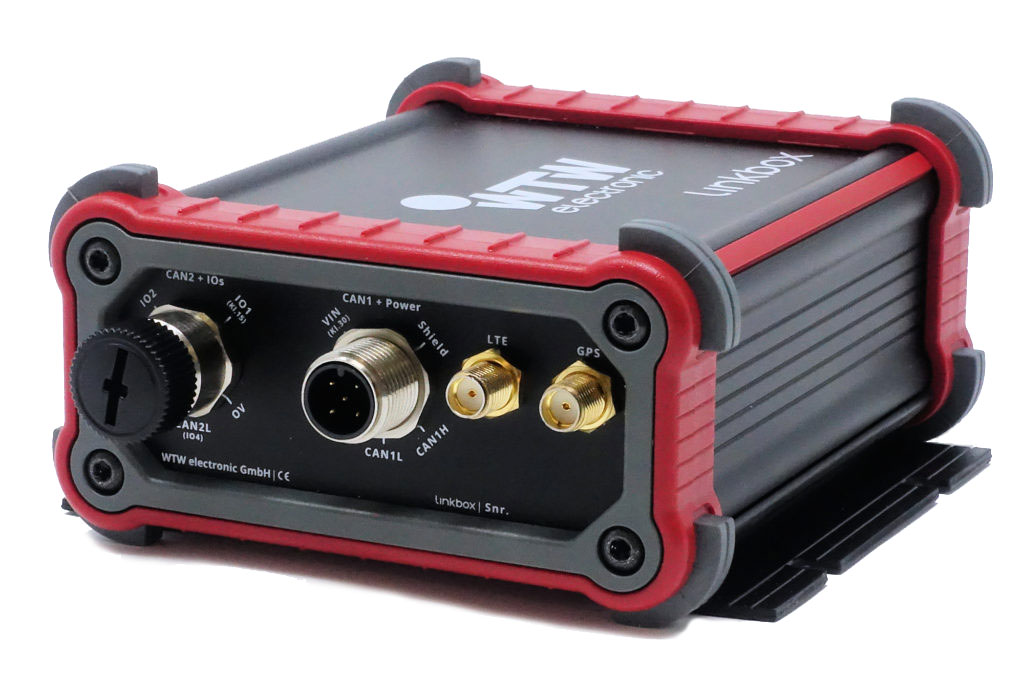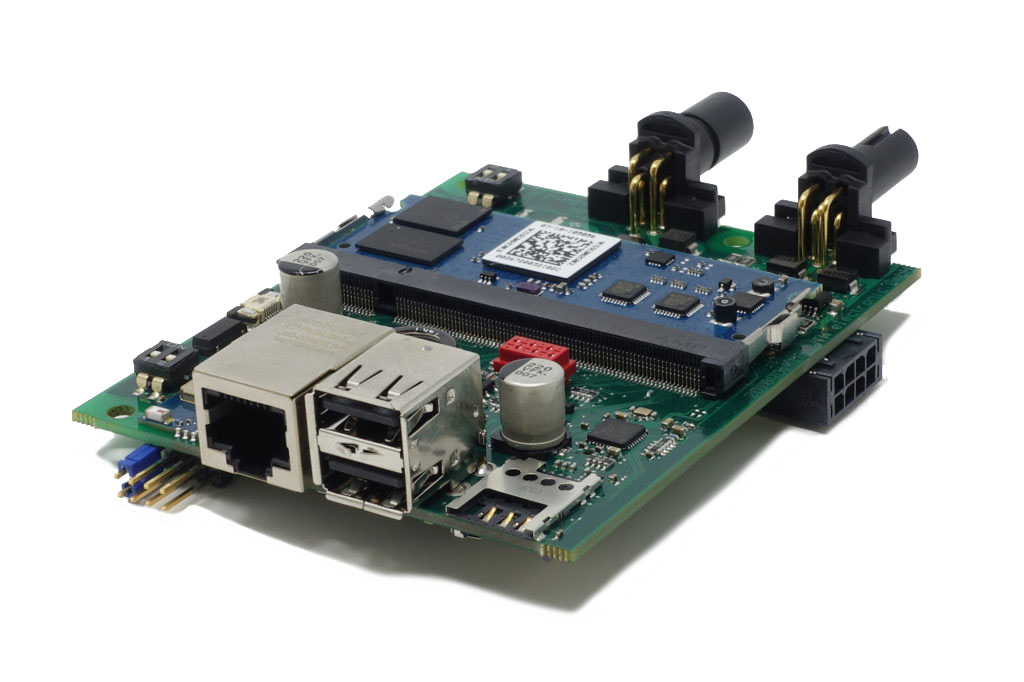 WTW IOT hardware
The hardware (the coupling device) can be individually adapted to the requirements of the machine.
The following adjustments can be made:
Electronics without housing as "open frame" for direct installation in the machine
Hardware interface to the machine (serial interface, industrial bus systems, etc.)
Software protocol for the machine
Dashboard
The dashboard provides an initial overview of your own machine or machine park.
Quick overview of the machine status
Freely configurable
Several machines from your own fleet can be combined
Display of error messages, location, etc.
Software update
Software updates can easily be carried out via the portal.
Update the linkbox
Update of connected control units via CAN, Ethernet, etc.
Roll out mass updates (e.g. based on the version)
Progress display of individual devices and the task
Connection of proprietary protocols possible